Teaching & Corporate
Teaching and corporate training and events have been a significant part of my career since 2003, when I ran Shakespeare workshops for the Orange Tree Theatre, Richmond (I had already participated in prison workshops with The London Shakespeare Workout; but the Orange Tree was my first experience of running workshops on my own). Now I take on all kinds of teaching challenges, and ideally like tailoring the teaching to the needs of that contract, one-off or ongoing. Full details at the foot of the page.
I have run workshops or courses for: the National Theatre's Learning department; the National Youth Theatre, and through them the Shakespeare Schools Festival; Scene and Heard, a brilliant children's charity based in the Somerstown area of North London, and through them for the National Theatre of Scotland; the extraordinary Equal Voice programme under the aegis of the great Mike Dalton, including a term of development work in an academy school in Finsbury Park; two educational projects for Snap! Theatre, now Theatre Is, one in a  Secure Unit for young people; the National Student Drama Festival in Scarborough; High Tide Festival; and The Primary Shakespeare Company . I also run the Improvisation course for Drama Studio London's 1-yr Foundation in Ealing, and have led workshops specifically about improvisation for: Narativ at Inner Temple (for young lawyers); Millennium Performing Arts, Woolwich; The Philosophy Shop; The School of Night, and Showstopper! (see 'Improvising' page for more details).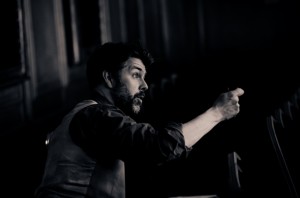 Corporate Work
As a roleplayer, I have worked on contracts for Pro Direct Sport, Bray Leino, Old Mutual, Cisco, British Gas, Barclays International, Natural England, Trade Secrets, Kings College London and Performance of A Lifetime among others, and regularly delivered the Blueprints for Work programme for the Training For Life business charity.
Selected teaching and course work:
| | | | |
| --- | --- | --- | --- |
| 2009-present | Course Leader | Drama Studio London, Ealing | Improvisation course for 4-term foundation group |
| 2013-Ongoing | Special Tutor | RADA | Exploring Shakespeare through improvisation |
| 2015-ongoing | Student Ensemble Leader | ISTA (International Schools' Theatre Association) | International schools around the world |
| 2016 | Masterclasses | DAMA Academy, Kuala Lumpur | Short courses in verse impro |
| 2016 | Visiting Teacher | Mountview Academy of Theatre Arts | Running classical scene study and Shakespeare modules |
| 2015 | Director | Primary Shakespeare Co. | Directing primary groups (Yr 4/5) in scenes from Hamlet |
| 2015 | Teacher/Actor | Austin College Sherman, Texas | Teaching and demonstrating literary improvisation |
| 2014 | Group Tutor | University of Winchester | Co-leading term-long devising course for BA Drama &Combined Hons. |
| 2014 | Course Leader | Guildford School of Acting | Running basic impro classes with BA students |
| 2013 | Course Leader | Scene & Heard | Co-ordinating a group of 8 teenagers and 20 adults to a performance of plays written by the children. |
| 2013 | Workshop Leader | Shakespeare Schools Festival | Workshops for teacher/directors (Spring) & school groups (Autumn) |
| 2011 | Workshop Leader | NT Learning | Workshops on 'Beauty & The Beast' with London primary schools |
| 2010 | Course Leader | National Youth Theatre | Two week summer acting course with approx. twenty 16-21 year-olds |
| 2010 | Workshop Leader | National Theatre Primary Classics | 5-workshop courses to primary groups ending in a Shakesperean-themed presentation |
| 2009 | Teacher | Millennium Performing Arts, Greenwich | Improvisation classes |
| 2009 | Workshop Leader | Shakespeare Schools Festival | Shakespeare session mixing two schools to prepare rehearsed presentations |
| 2009 | Course Leader | National Youth Theatre | Shakespeare workshops at the Brierley Hill Project |
| 2009 | Teacher | London School of Dramatic Art | Improvisation classes |
| 2008 | Workshop Leader | Shakespeare Schools Festival | Shakespeare session mixing two schools to prepare rehearsed presentations |
| 2008 | Course Leader | National Youth Theatre | Two week summer acting course with approx. twenty 16-21 year-olds |
| 2008 | Course Leader | Scene & Heard | One on One acting course |
| 2008 | Auditioner/Workshop Leader | National Youth Theatre | Annual intake auditions (included co-running a workshop for forty 14-20 year-olds) |
| 2008 | Workshop Leader | National Student Drama Festival | Improvisation workshops |
| 2008 | Workshop Leader | Equal Voice | Islington Arts & Music School (IAMS) Year 11 BTec presentation – devised material and scenes from Roy Williams' Fallout. |
| 2007 | Volunteer | Scene & Heard | Playmaking One course; one-on-one dramaturgy with 9/10 year-olds |
| 2007 | Workshop Leader | The Performing Academy, Newcastle | Shakespearean verse masterclasses |
| 2007 | Teacher | Actors Centre, London | Improvisation Classes |
| 2007 | Course Leader | Scene & Heard | Stage One Acting Course for 11 and 12 year-olds |
| 2006 | Workshop Leader | Equal Voice | Running workshops for International Children's Day at City Hall |
| 2006 | Facilitator/Workshop Leader | Equal Voice | Emotional learning workshops (part of PHSE/SEAL programmes) in primary schools in the Borough of Barnet. |
| 2006 | Workshop Leader/Performer | Snap Theatre Co. | Work on a short play on child security issues, with residents of Tiffield Secure Unit, Northamptonshire. |
| 2006 | Workshop Leader | National Theatre of Scotland/Scene & Heard | Writing workshops for National Theatre of Scotland launch event – a 30 minute play written by young people from Livingston. |
| 2006 | Facilitator | Training For Life (education/training charity) | Delivering the personal development training programme, 'Blueprints For Work'. |
| 2005 | Assistant Producer | Scene & Heard | Running workshops for child playwrights, overseeing production, rehearsal, technical preparation and performance of 9 short plays by adult professionals |
| 2005 | Director/Facilitator | Snap Theatre Co. | Year 11 students devised a short drama performed to students of primary intake schools |
| 2004 | Course co-director | Scene & Heard children's charity | Assisting in producing short plays written by the children, to be acted by them with adult professionals |
| 2003 | Workshop Leader | Orange Tree Theatre, Richmond | SATs and primary school workshops on three Shakespeare plays |
| 2000-2004 | Volunteer | London Shakespeare Workout | Various prisons around England |